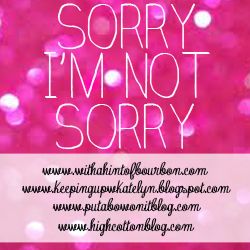 I'm linking up with these lovely ladies for a round of Sorry I'm Not Sorry!
Sorry I'm Not Sorry for….
Making lists all the time. And I prefer lists on paper (in case you were dying to know) so I am able to cross it off.
Yelling at my husband when he is driving crazy and then when I'm by myself, I do the exact same things. Hey, he's so much scarier when he does it ;)
My head being full of song lyrics. Seriously, I'm pretty sure 80% of my brain is full of lyrics. Super helpful when making my commute everyday to work. Singing along to the radio is the only thing keeping me entertained every day while driving.
Being drove crazy when people do not shut cabinet doors. Seriously, how hard is it for you to shut the door?
Being in love with their dog and treating it like part of the family.
Using too much of every product…this drives my husband crazy. Whether it's body wash, shampoo, toothpaste, eye cream, etc. etc. etc. You name it, and I use way too much. I know I do it….I just have a hard time visualizing how much I need.
Watching crap tv. Reality tv is about the only thing I watch. The crappier it is…more likely I'll watch it! I'm craving that fluff stuff when I get home from work. I don't want to watch anything that needs my brain to work.
Being horrible at geography (ahem,
Mr. TBC
). I promise you, it's not my fault!
Derek and I have our own secret clap. You know, a hand clap routine you did with a rhyme or something when you were 5 years old?! Well, we were awesome when we were in high school and started doing a small secret "handshake" (which involved clapping each other hands). We have been adding to it every since and now it has gotten kind of long. But every so often we will pull it out to see if we can remember it.