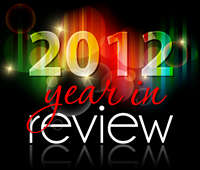 I was totally going to wait until after the New Year to write another blog post, but I've missed all of you! So, I thought I would link up with the seriously fabulous
Courtney
and do a little 2012 recap. Why not, you know?
I first have to say that I initially did not want to do a recap of this year, even though I always do. This has been the hardest year of my life. And even though we have done some incredible things over the past 12 months, I didn't want it to come across that life was went on and was fabulous all the time. To be honest, I struggled a lot this year, especially internally. However, this was not captured on my blog. I really want my little space here on the web to be about happy times, because we all know those sometimes are the hardest to remember. I hope I'm making sense and what I'm trying to say is I've gotten through this year because of my husband and all of the people in our lives. So a big thank you to them and to you! Now, on to the recap!
January
Well, this month kicked off the year with a bang….
My
father
passed away after trying to recover from a bone marrow transplant. There is not a day that goes by that I don't think of him and miss him dearly. I miss talking to him like I've never imagined.
February
Met
this
pretty lady for this first time and had my first ever blate! Actually, ours was kinda a blind double-blate (you can read more about it
here
). Ha! Anyway, Derek and I consider Sarah and her husband our good friends and so glad that we met them!!
Also, I did two really big DIY projects from Pinterest. You can view my
Winter Yarn Ball Wreath
(which I have up on my door right now!) and the
Silhouette
of Brutus that I created on burlap.
March
We had the exciting times of Derek collecting another
Scar
…ugh!
We enjoyed a night of
Lobster Fest
with Derek's parents….maybe a little too much enjoyment :)
April
The month of April was filled with Cincinnati Reds games and spending time with friends!
May
After 3 years of grad school, I
graduated
with my Masters!
Celebrated with
Sarah and Jake
at their beautiful wedding.
Threw a
Murder Mystery Party
for Derek's Birthday!
June
Attended a
little-black-dress
event with friends to say a sad farewell to
Miss Monica
!
Derek and I went to Vegas to celebrate my graduation! We met my brother and sister-in-law for a fun time. Don't worry, I was not the only one who was doing the celebrating…Derek got a little birthday present while he was there
You can read more about the Vegas shenanigans we got into
here
,
here
,
here
, and
here
!
July
FINALLY got a new
bedroom set
! After sleeping 2 years in a tiny full sized bed, we were ready for the monstrous king bed!
Took myself out on a
date
. Yup, that's right!
Was somebody else's
date
to a wedding.
Celebrated my 25th birthday in
Nashville
. This was our first time there, and seriously, we are getting back there asap! So.much.fun!
Had an incredibly embarrassing vain
incident
happen!
August
Told you about a very fun
photo game
that you should play the next time you feel like acting silly!
Attended a
girls night
that was full of new friends and bloggers!
September
Attended
Whitney and James'
wedding at the beautiful Franklin Conservatory.
Made
this
Ohio State wreath for our front door. Gooo Bucks, right Brutus?
Finally went on our "honeymoon" to Italy! Read more about stops at
Venice,
Florence,
Tuscany,
Pisa,
Cinque Terre

,
and
Bellagio
.
October
Brutus talked about his
shopping addiction
!
Made a new
Halloween Decoration
for our front steps.
November
Had our annual wild & crazy
house
party!
Traveled to
South Dakota
for Thanksgiving. It was a great trip to see all of my family!
December
Participated in a
progressive dinner party
with our neighbors.
Threw a
dinner party
at our house.
Celebrated
Brutus'
birthday!
Whew, and that is all of the recap!
I hope you had a great Christmas. We have been pretty buys the last few weeks and as soon as we ring in the New Year I'll have a recap of our Ugly Christmas Sweater Party, Thin Mint Truffle recipes, why coffee cups are so important and lastly, a recap of New Years Eve (duh!).
Have a great New Years…and here's to 2013!