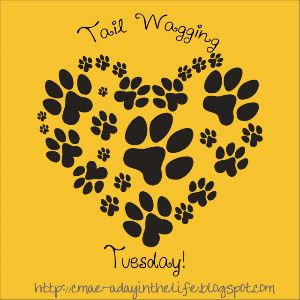 Yay, Tail Wagging Tuesday is back with a special edition….Holiday Photos. Well, since you saw Mr. Brutus on our Christmas card yesterday, I thought I would take some festive photos of him today wearing his jolliest Christmas-gear!
Brutus loves his sweaters. I think it is because I've been putting them on him since he has been 8 weeks old! His Christmas time sweater is a moose sweater that is just adorable!
He will even play in his sweaters….
And pose by the Christmas tree….
And give me his biggest grin because he is just sooo happy……


But, the thing he hates is hats!! I don't blame the man. If I had ears that stuck straight up, I would not want to put anything on that cramped my style. Thus, I could not capture any pictures of him being happy with this santa hat on!


Derek holding him for a picture because he did not want to show his face with that thing on….
I can only get a picture of him kinda asleep…..
Or completely asleep….
Haha, never again will I make you wear that hat Brutus! I promise! Thanks for amusing me for Tail Wagging Tuesday!
Link up at
C Mae's
blog today!